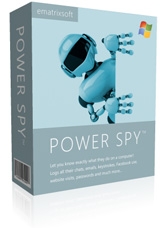 What is Power Spy Software?
Power Spy is an award-winning computer monitoring software. It allows you to keep tab on your kids or employees while you are away. It secrectly logs all user activities on a PC and they won't know its existence. After it is installed on the PC, you can receive log reports on any other devices remotely by email or ftp. You can also read logs from its log viewer inside the software on the monitored PC directly. No extra hardware is required to perform such monitoring. Power Spy works on PC, laptop and tablet and it is compatible with Windows XP / Vista / 7 / 8 / 10 / 11.
How It works?
Purchase it from any device and download it to the PC you want to monitor (or download a free trial to take a test first).

Install it in 1 minute or less and setup an email or ftp to receive logs.

Click Start Monitoring and Stealth Mode button to monitor and record all PC activities secretly.

Open your email or a web URL remotely to view all logs you received.
What does Power Spy Software log?
Keystrokes typed, Facebook, chats and IMs, web history & web searches, photos posted, emails, file & document history, windows opened, clipboard text, games played, videos watched, microphone, files downloaded / uploaded, internet connections, computer usage and applications executed. It even takes screenshots (every 3 seconds for example) like a surveillance camera, which may include Facebook Messenger, WhatsApp, Instagram, Teams, Zoom, Telegram and more app usage.